Super Soaker Classic 300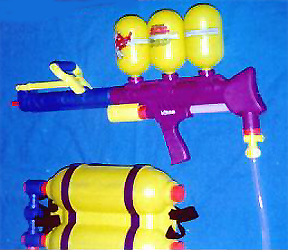 | | |
| --- | --- |
| Water Capacity | 256oz - 8L |
| Pressure Tank Size | N/A |
| Standard Price (Canadian $) | N/A |
| Relative Weapon Size | Backpack Cannon |
The original water weapon of death. With an 8 Litre Backback to supply this guns 3 massive air pressure tanks, it is the heavyest weapon of the classic series, and almost as big as the CPS3000.
Although this massive weapon is not based on CPS technology, the power of it's 5x nozzle can still punch someone across town.
P.S.: This is one of the few Classic Super Soakers to still be recommended for modern water warfare.