Super Soaker Classic 50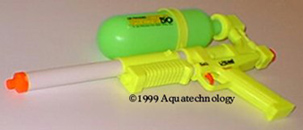 "The Most Powerful Watergun Ever" - Original Box
| | |
| --- | --- |
| Water Capacity | 22oz - 690mL |
| Standard Price (Canadian $) | 15$ |
| Relative Weapon Size | Small Rifle |
One of the most outclassed weapons, but by far the most Sacred... The Classic 50 was the first Super Soaker ever released. Yellow with a green tank, it brought fear to water warriors everywhere in the time of the simple water gun. With each pump of this weapon, another fighter wets his/her pants...
This was the standard weapon in use in the early days of the Super Soaker wars. Very few were lucky enough to afford a larger gun... Also it's relatively cheap price made it appealing to many starting in the field, and it's high power for the time would not let their owner down. The 50 was the lowest gun in the Classics to make any pump-trigger gun look wimpy.
This Gun, although nice to have, is not at all very good for the modern water war fields as it used to be. It should be considered a collectors item or a last resort only.

There were 4 Versions of this Gun...
| | |
| --- | --- |
| Original 100 | The First Super Soaker, Made 1989. |
| Classic 50 | Original 100 renamed in 1990. |
| Classic Series 50 | Smaller than Classic 50, 1998. |
| 10th Anniversary Silver 50 | 1999 Collectors Version |
Now that the Super Soaker has changed the water world, the Geriatric Super Soaker 50 has been rereleased several times, as a Smaller Classic Series 50 gun, and as a Chromed Silver 10th Anniversary 50...
...Both Shown Below...
| | |
| --- | --- |
| | |
| Classic Series Edition | 10th Anniversary Edition |
...Also, the Original 100...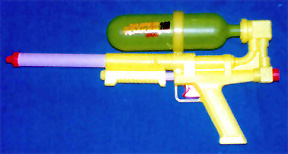 (Photos Courtesy of Aquatechnology via the Aquatica Project)
(Original 100 Photo Courtesy of MiB)