--=Site Map=--
--==<Submit a War Story>==--
Site best viewed at 800x600 in 24bit color with Netscape Communicator 4.x
16bit color and/or IE v5.0 will look fine.
16 or 256 colors will ruin the look the Nexus is styled to project.
IE v4.0 Users May experirence inconviniences with the Tripod Banner Popup Window.
Macromedia Flash 3.0 Required, Version 4.0 recommended.
The Nexus Will not Function Properly under 640x480 Resolutions and non-maximized windows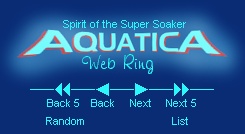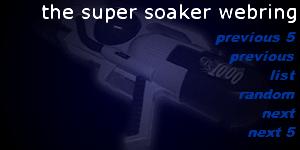 All Information on this site has been done to the best of my knowledge.
Please email me about any problems you may have or may find with this page.
| | |
| --- | --- |
| 4/1/1999 | The Super Soaker Classics |
| 5/5/1999 | C-WSL Super Soaker Website |
| 5/24/1999 | C-WSL AQUA-NeXuS |
| 11/11/1999 | AquaNexus: The Super Soaker Connection |
Another WINKY WEIRDOW Webpage